The Top 5 Reasons Why You'll Want To Sponsor A Technology Marketing Toolkit Event:

You'll get access to our members, who make up a very unique group of IT services CEOs (MSPs, VARs, IT consultants) in the IT services channel. They are the MOST INFLUENTIAL resellers of IT services, hardware, software and communication systems, acting as the IT department for hundreds of thousands of small to mid-size businesses from around the world. If your company sells any kind of technology solution to small-medium businesses (SMBs), you need to work with our members!
You'll get the HIGHEST ROI from our events over any other events you may have sponsored (watch the video below to hear multiple sponsors convey this). That's because our IT services CEO members are serious about growth and have invested serious time and money into marketing, sales and expanding the IT services offerings to their clients. They are ALWAYS eager to discover new tools, software and technology solutions they can resell and recommend to their clients.
You will be assisted by our senior sponsorship consultants that are dedicated to your success and who will offer strategies to maximize your sponsorship investment, build brand recognition and generate a solid, return on your marketing investment.
We will work with you to customize the perfect sponsor opportunity to fit your specific goals and brand-building ideas. Yes, we have standard sponsorship packages that work; but we can also offer any combination of focus groups, technology labs, speaking sessions, lunch-and-learn workshops, plus a wide variety of unique "experiences" that will build name recognition, engagement and drive sales.
We consistently deliver the highest quality and quantity of attendees at our events, workshops, webinars and websites. Our numbers always reflect a true and accurate representation of the audience we attract.
But Don't Take Our Word For It!
Watch This Video To See What Our Sponsors Are Saying:
FREE:
Download Our Partner Book & Media Guide To Discover How To Get More High Quality Partners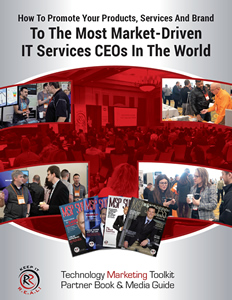 See What Other Companies Have Said About Sponsoring Our Events