The Top 5 Reasons Why You'll Want To Sponsor A Technology Marketing Toolkit Event:

You'll get access to our members, who make up a very unique group of IT services CEOs (MSPs, VARs, IT consultants) in the IT services channel. They are the MOST INFLUENTIAL resellers of IT services, hardware, software and communication systems, acting as the IT department for hundreds of thousands of small to mid-size businesses from around the world. If your company sells any kind of technology solution to small-medium businesses (SMBs), you need to work with our members!
You'll get the HIGHEST ROI from our events over any other events you may have sponsored (watch the video below to hear multiple sponsors convey this). That's because our IT services CEO members are serious about growth and have invested serious time and money into marketing, sales and expanding the IT services offerings to their clients. They are ALWAYS eager to discover new tools, software and technology solutions they can resell and recommend to their clients.
You will be assisted by our senior sponsorship consultants that are dedicated to your success and who will offer strategies to maximize your sponsorship investment, build brand recognition and generate a solid, return on your marketing investment.
We will work with you to customize the perfect sponsor opportunity to fit your specific goals and brand-building ideas. Yes, we have standard sponsorship packages that work; but we can also offer any combination of focus groups, technology labs, speaking sessions, lunch-and-learn workshops, plus a wide variety of unique "experiences" that will build name recognition, engagement and drive sales.
We consistently deliver the highest quality and quantity of attendees at our events, workshops, webinars and websites. Our numbers always reflect a true and accurate representation of the audience we attract.
But Don't Take Our Word For It!
Watch This Video To See What Our Sponsors Are Saying:
There is no question about it: Robin Robins has guided more MSPs, VARs and IT business owners to greater profits, success and growth than any other person in the IT channel, period. She is famous for creating wildly successful marketing campaigns to sell IT services in the fastest, most efficient ways possible and for creating a large base of loyal, raving-fan clients who rely on her for business and marketing advice.
Robin Robins is the IT industry's most in-demand marketing consultant, sales trainer and author who specializes in highly effective marketing strategies for VARs, systems integrators, MSPs, solution providers and IT consulting firms.
She is the author of the Technology Marketing Toolkit and Million-Dollar Managed Services Blueprint. To date, over 8,000 IT business owners from all over the US and in 23 different countries have learned and implemented the marketing systems she has developed to create hundreds of millions of dollars in NEW sales, NEW opportunities and NEW revenue streams for their business.
Robin has been voted a #1 speaker at many industry events, such as ChannelCon (formerly known as BreakAway), System Builder Summit and VARVision, ASCII Success Summits (formerly known as ASCII boot camps), CT Summit and SMB Nation. She has been published in VARBusiness, eChannelLine.com, Sales and Marketing Magazine, Selling Power and SMB Partner Community Magazine.
In addition to her extensive experience with IT services firms, Robin has developed marketing strategies for over 1,200 businesses in 14 different industries across North America, Australia and Europe. This includes both online and offline marketing strategies for computer training schools and universities, franchise organizations, software companies (Novell, Surf Control, AVG antivirus and Microsoft), financial services, seminars and events, member organizations and a variety of consumer products and services. This vast experience has given Robin a broad knowledge of hundreds of marketing and sales tactics used by some of the most successful, sales-driven organizations in the world.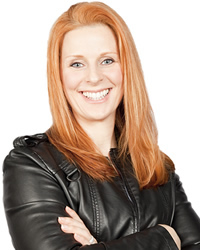 Robin has more documented client success stories than any other marketing consultant in this industry, period.
She has spent over a decade researching, developing, testing and refining marketing campaigns for MSPs and IT services companies.
She has over 8,000 clients that span the globe and are made up of brand-new start-ups, multimillion-dollar IT firms and everything in between.
She has developed at least a dozen marketing campaigns and systems directly responsible for generating over a MILLION dollars in IT services revenue for her clients.
FREE:
Download Our Partner Book & Media Guide To Discover How To Get More High Quality Partners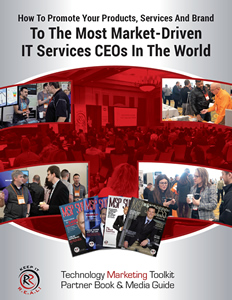 See What Other Companies Have Said About Sponsoring Our Events