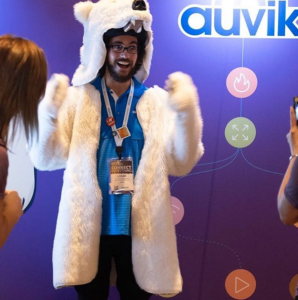 "Events are a massive part of our channel strategy! We're doing just over 100 events this year" shared Caitlyn McCaughran, Event Manager for Auvik Networks, during a recent interview.
To say events are a top priority for Auvik, and their partner strategy, would be a huge understatement. Why do they like events so much?
"It's the ability to be face-to-face. To answer questions. To gain visibility."
And how do you stand out in a crowd where there can be 20, 40, 60 or more other vendors all vying for attention?
With a polar bear suit of course!
Auvik Networks has a polar bear mascot named Nanook and they use Nanook statues, desktop wallpapers and a Nanook suit at events to get attention and have some fun with the attendees.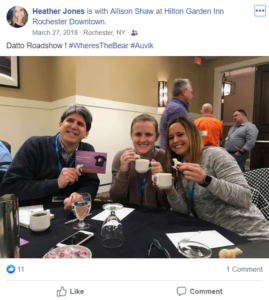 This includes a social media campaign where people can use the hashtag #wheresthebear and get a free t-shirt.
When Caitlyn was asked why they use a polar bear she said, "People think polar bears are scary, but networks shouldn't be."
And that's a core tenant at Auvik because they want to work with their partners to create an environment where "building a business is exciting."
Among their other big hits at events is their Bear and a Beer Pub Crawl. No secret here why that one's popular.
So while Auvik Networks likes to draw their partners in with some fun events and ideas, at the end of the day it's really about a great product, great service and great people.
And Auvik Networks is working hard on all three of those things.

For more fun photos check out Auvik Networks online at https://www.instagram.com/theauvikway/ 
To Find Out How You Can Add More Qualified Partners, Contact Our Sponsor Team (844) 999-0555 or e-mail us Partners@BigRedMedia.com