Where 93% Of IT Channel Vendors Waste HUGE Buckets Of Marketing Dollars And Opportunities
Posted On July 1st, 2019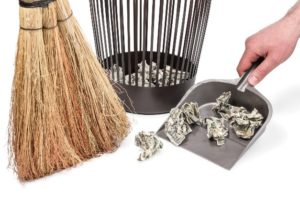 The other day I conducted a marketing experiment.
I took 3 different industry publications at random and reviewed each ad that was placed. In total, there were 43, and most were full-page ads. The shocker? Only 4 made ANY attempt at an offer to drive the reader (prospect) to take some kind of action so they could generate a lead. Unfortunately, even those 4 were fatally flawed because their "offer" required you to be a current client (for example, one offered a special credit for every new device deployed; the others were discounts for making a purchase). So what's so bad about all of this? If you don't instantly know, you REALLY need to read this…
Let's start with the full-page ads that made no attempt whatsoever to generate a lead. I'm confident that if I quizzed their marketing departments, I'd hear that age-old logic of "It's branding" and therefore the ads are not required to do anything else but emblazon the logo and familiarize the world with their company name. But what is the purpose of THAT? Isn't the ultimate purpose of all marketing and advertising to persuade a prospective buyer to do business with you? And if that logic holds true, then why wouldn't you at least design the ad to drive the reader to some meaningful action to engage with you, where they can then be developed into a paying client?
That's called "lead generation" marketing. When done right, you can quickly build a list of qualified prospects and drive interested buyers to your sales team who can then turn them into paying clients. (By the way, ask any commissioned salesperson or leader in your organization with a big, fat quota hanging over their head if they agree with me on this point. Trust me, they do.)
Yet 93% of those paying good money for advertising in IT industry publications for the purpose of recruiting resellers aren't even so much as making a single offer, nor making any attempt to drive the readers to do something – and for the record, pointing readers to a website where they can "learn more about us" is NOT an offer. More on this in a minute.
What about the small minority that actually attempted to make an offer? Every one made the mistake of offering some type of discount for buying. That might work if we were selling a known consumer good, like furniture or milk, but when selling your reseller program, where it's necessary to convince a buyer that A) they should resell what you offer, and B) resell YOUR specific services and products, this is simply a leap too far. If someone is that close to buying, they're most likely already a lead, talking to a sales rep. You shouldn't run full-page ads in a magazine that they may or may not see to entice them to buy; instead, you should be using a strategic follow-up sales process (funnel) to get them to buy.
Lead generation is a BIG, complicated project that requires more than a quick article to get right. You have to consider what lead generation "bait" will most likely attract the right prospect, and then construct the copy and design of your ad to ensure maximum conversion. Further, you need to ensure the "bait" you offer, and your follow-up process, is designed to move that "shy" inquiry to a very interested, ready-to-buy prospect. Get any of this wrong and your markeing fails. However, here are a few quick tips to get you going in the right direction:
HAVE an OFFER! One of the most egregious errors I see in marketing is LACK OF A COMPELLING OFFER to move a prospect from noticing you (attention) to taking action. Specifically, a low- to no-risk "thing" an interested prospect can request, download, be sent, watch, listen to, consume, etc., as a means for engaging with you without being forced to talk to a salesperson. FAR too many prospects are left on the table for lack of a good offer because there's nothing to compel them to respond to you, and they're not interested enough (yet) to buy. Roughly one out of 1,000-2,000 prospects are ready to buy now and don't need a lead-generation offer. However, if you put a properly constructed offer in place, you can get 2 to 5 out of 100 to respond (or 20 to 50 out of 1,000), and if the follow-up is done right, 20% to 30% of them to buy within a short period of time, and even more over time if you continue to communicate effectively (drip marketing). Therefore, you're generating 4 to 15 BUYERS from the same 1,000 eyeballs, more with follow-up. That's a 4 to 7 times multiple of response for the same cost, along with the added benefit of building a LIST (and any good marketer wouldn't underestimate the importance of that).
Make sure your ad sells the OFFER, not your company. The next huge mistake advertisers make is attempting to sell their products and services direct from an e-mail, ad or other marketing campaign. It's too far a leap for a prospect to go from hearing about your products or service to buying, particularly when the "buy" is something that requires a serious commitment or change in the way they do business, such as changing backup vendors, a new PSA tool, new hardware supplier, etc. Therefore, your ads should do one thing and one thing only: sell the prospect on getting/downloading/requesting the lead generation offer. THEN the offer – be it a free report, webinar, video, audio or other content – should do the heavy lifting of moving them from casual interest to a more serious desire to buy. That's not to say you can't "brand" the ad with your company name, logo, website, etc. But the primary purpose of the ad should be to get that prospect moving toward you – nothing else.
Your offer needs to be so good that a prospect would PAY for it. Another mistake: having an offer (white paper, video, webinar, etc.), but making it so dry, dull, boring and irrelevant that NOBODY wants it. The title is critical. Therefore if your white paper title is "Cloud Backup As A Service," the number who will read this are few. Title it, "3 Common, But Little-Known Mistakes MSPs Make With Cloud Backup That Compromise Their Clients' Security," and you're getting a heck of a lot warmer. You know you have an offer that works when people would actually pay money to get it. Then, the content actually HAS To be good. One vendor was offering the "Ultimate Guide To MSP Marketing" awhile back (a good title). However, the "guide" was nothing more than a 3-page article with no meat on the bones. That actually DAMAGES your brand and creates animosity from people who feel they've been tricked into downloading something that is clearly marketing fluff.
Your offer must transcend perfect timing. One of the biggest reasons prospects don't buy is because they don't PERCEIVE a need. Be careful to note I didn't say they don't have a need. There IS a difference. That's why we push our clients to offer IT assessments and audits to determine if their IT guy is doing a lousy job, charging them for work they're supposed to do but aren't, delivering substandard service, etc. You don't have to have a NEED to respond to that. In our business, we offer a marketing consultation to show you how to double or triple the leads your managed IT services business is generating – we don't lead with our services or products, because UNLESS they want to generate more leads, our products are useless to them. They don't know they need our Toolkit until we sell it to them via a consultation. For your offer to work, it has to be something they would be interested in having and/or knowing that stands outside of immediate need.
Your offer needs to have tracking for measurement. Another mistake: not providing a unique URL, phone number, e-mail or other response mechanism for every promotion you run. ALL of the ads – including those that made an offer – gave a generic URL as a means for response. They could have easily constructed a unique URL to put on the ad so they could track exactly how many people came to the page, and then how many leads/sales were generated. That's the only way you'll know if your marketing dollars are actually producing. Otherwise, you're blindfolded and guessing as to what activities are generating the highest and best returns, which means you're VERY likely to be wasting advertising dollars. Naturally, most people don't like this kind of measurement because it will reveal VERY quickly they are getting $0 for their efforts and dollars; and I suppose if you want to cover your arse and not be held accountable for such things as "results," it makes sense. But if you want to be a true direct response marketer that can generate tangible returns for your boss or your company, then you MUST track and hold each marketing dollar accountable for a return.
There's no doubt about it: Robin Robins has helped more MSPs and IT services companies to grow and prosper, liberating them from stagnation, frustration, drudgery and low incomes. For over 18 years, Robin has been showing MSPs and IT services firms how to implement marketing plans that attract higher-quality clients, lock in recurring revenue streams and secure high-profit contracts. Her methods have been used by over 8,000 IT services firms around the world, from start-ups to multimillion-dollar MSPs. For more information and a FREE copy of The MSP's Ultimate Guide To IT Services Marketing And Lead Generation, go to https://www.technologymarketingtoolkit.com.